Five things IT directors might not know about Tiger Prism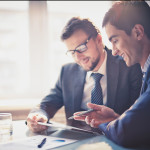 18/05/2021
Five things IT directors might not know about Tiger Prism
With the technology industry moving at a rapid pace, there's never been a more crucial time for leaders to unlock their organisation's data and utilise the insight that informs business-critical decisions, that's where Tiger Prism can help.
As a busy IT director, you'll be equipped with a vast array of solutions at your fingertips, so it's important that every element of your software stack enables you to be more productive, keep motivated, and empower your teams to make a commercial difference and impact your bottom line.
With that, you'll need to know everything about how you can further streamline your in-house processes. That's why we've gathered five key benefits of Tiger Prism as a starting point in how you can maximise your workplace data analytics tool…
1. Simply share information between colleagues
Being in full control, you have the capability to create analytics widgets that are tailored to your organisation's key data metrics. These assets can easily be copied and pasted for your colleagues to access when they next log into the portal.
That means information takes you seconds rather than hours to import safely and enables you and your department to complete reports at pace. And, if you're stuck for what insight you want to dissect, we offer free, pre-built widgets – when you need them.
Additionally, user accounts are highly configurable to ensure everyone has access to the information that's solely relevant to them – whether that's call stats, network optimisation or costs. Therefore, this level of flexibility means you don't have to come armed with a computer science degree or be a manager, Tiger Prism is equally useful for team leaders, call handlers, switchboard operators and finance assistants too.
2. Report on the modality of every single call
Having recently announced the introduction of our Microsoft Teams module, the great news is that if it's been integrated into existing company infrastructure, you can retrieve the data that matters to you.
Whether you want to glean further intelligence concerning the quality or volume of your Teams video calls, instant messages or screenshares – to help identify employee trends, understand in-house engagement, and business performance – we'll help you gather the detail that informs business-critical decisions.
3. Synchronise all your company's direct resources
Even if you have hundreds or thousands of employees in your database, Tiger Prism can provide you with the flexibility and speed to connect all relevant contacts. The benefit? You'll be able to find information quickly, which is perfect for when you've got a report deadline looming.
By devolving a range of time-consuming tasks to our savvy technology, you're able to focus on key business priorities and reduce that all-important IT backlog too.
4. Tiger Prism is vendor agnostic
Not only can you manage your costs with our software offering, but we provide a much more simplified process with unbiased support – when you need it.
Additionally, Tiger Prism's interoperability means you're able to get data swiftly as soon as it's up and running, enabling you to be more productive and have access to greater levels of insight – all in real-time – without missing a beat.
Don't forget, Tiger is a Hampshire-headquartered organisation, and our UK-based data centre means you shouldn't have to worry about waiting 24-hours for your query to be answered from another time-zone. Our team is on hand to help with your questions, provide dedicated support and roll-out demonstrations, and product training when it's convenient for you.
5. We are ISO 27001 accredited
With a commitment to both preventing and defending against potential system vulnerabilities, you can be safe in the knowledge that your information is firmly protected. Achieving the globally recognised ISO 27001 status and being data compliant, we're a trusted organisation that cares about you and your company.
Discover how we helped market-leading insurance firm esure to trigger call alerts and capture fraudulent callers, here.
We've got more product innovation in the pipeline to further empower your teams, streamline processes, and strengthen those boardroom conversations when it comes to talking about investing in the right tech that's going to support you now – and in the future.
Whether the focus is on cost control, security, reporting metrics, making the most of Microsoft Teams data or reducing your IT backlog, find out how Tiger Prism can bolster your IT provision. Alternatively, email: hello@tiger.io or call 01425 891000 to arrange a chat with one of our friendly team!