Are we headed towards a hybrid future? John Shannon shares his views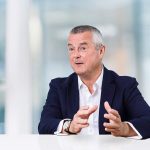 24/11/2020
John Shannon
Partner Director
Are we headed towards a hybrid future?
There has been lots in the news recently about the 'future of the workplace' and whether virtual communications will override the need for a physical office space. And while some businesses may firmly sit on one side of the fence, there are many organisations which are employing a fusion of the two – a hybrid working model that sees some staff office-based and others working from a remote location.
Our Partner Director, John Shannon, shared his thoughts with Techerati about the intricacies of hybrid working and what role it will play throughout the remainder of 2020 – and beyond. If you missed the original article, catch up below…
Business productivity and staff engagement

The notion of combining an in-office and home-based set-up has undoubtedly been accelerated because of COVID-19 – and with mixed response and success rates.
Back in March 2020, many organisations which hadn't previously invested in a unified communications infrastructure were suddenly faced with the unknown – every employee working from a remote location. And they had to make it work. Whereas companies which were au fait with flexible operations were geared up to transition more seamlessly.
No matter which side of the spectrum brands were on though, one thing remained clear, adaptive leadership was – and will remain – a crucial piece of the jigsaw in helping to weather the storm effectively.
But it's thanks to the smorgasbord of technology available at employees' fingertips – such as video conferencing applications, collaborative software and even quiz apps – which has enabled senior decision-makers to maintain business continuity alongside employee communications, even in the most unprecedented of times.
And even when organisations reopened their doors to workforces, things didn't necessarily go back to 'normal', rather they evolved – with more colleagues fusing together office and home life.
Of course, there are arguments for and against the effect this duality is having on businesses, but one thing which has emerged is that an increasing number of staff now feel more empowered. Giving the organisation's frontline the choice to shape its own schedule subliminally instils a culture of trust and positivity, which in turn, can lead to greater job satisfaction levels and a more productive approach to getting the job done.
That's not to say that this more 'divided' working week is an ideal scenario for everyone though. The other side to a hybrid approach is that some people's productivity has depleted – because they work more successfully in a face-to-face environment – or, in some cases, because they don't have a suitable tech set-up at home, with 'iffy Wi-Fi' sometimes making voice on video calls too tricky to navigate.
However, while maintaining virtual contact via video calls can undoubtedly help to maintain a sense of camaraderie and 'in it togetherness' among colleagues, the benefits of 'more communication' are also much deeper-rooted – regarding the positive impact it can have on both company growth and customer relations.
An era of new opportunities
The blend of office and home working has, in some instances, strengthened a business's proposition – making way for new partnerships across the globe.
For instance, whether that's been swapping the quarterly dinner for a wine-and-cheese-tasting box in the post – where everyone logs into a virtual room to share the experience together – or strengthening overseas connections by dedicating a stronger focus to video-led communications, there have been lots of efficiencies discovered.
Moreover, while regular virtual check-ins can help to build personal bridges with clients, they can also cut down the time a face-to-face meeting would take, helping businesses to not only connect with their customers and partners on a more personalised level, but likewise make swifter decisions, as a result.
And these successes are the ones companies want to continue experiencing.
Weighing up what's right for everyone
Perhaps one of the biggest things to consider in this debate is 'one size never fits all'.
An organisation is often made up of many people – all of whom are different and have their preferred ways of working – so adopting a chameleon-like approach is vital for business owners looking to foster an engaged and supported team. For instance, new starters may benefit from having their week weighted more heavily in the office, to get them to grips with the culture and ethos of the company. While forcing field-based staff to operate from HQ may go against their remote preferences. And pressing either one to do what they're less comfortable with could be catastrophic – not only in terms of their productivity, but also their personal wellbeing.
The important take-away from this should be that ongoing communications are vital in understanding what a workforce wants. Whether in the form of regular surveys or online and socially-distanced meetings, checking in with people's likes and dislikes helps an enterprise know where further investment is needed.
What does the future really hold?
While no one is 100 percent certain what the coming months – and years – have in store for the corporate landscape, it's obvious that agility will be an unwavering requirement.
One thing which isn't going away is that the world is a different place and, consequently, so is the workplace environment.
Above all, businesses need to remain focused and refrain from any knee-jerk reactions. Hybrid working is a marathon, not a sprint, and one in which not everyone wants to take part. What's important though is that no matter the location of a staff member, communication remains constant, and teams should continue to collaborate, sharing what has worked well, alongside learnings from what hasn't been as successful.
Regardless of the pandemic, the more digital nature of society means a hybrid future is perhaps a destination modern-day, tech-first firms are headed towards. When executed with care, consideration and regular evaluation, it looks like it could be a one-way ticket to a more productive atmosphere and better-balanced work-personal life.
Hybridity may be here to stay, but that doesn't mean it will look like it does now in another five or ten years' time, it's just that businesses must have the mindset to adjust and acclimatise to whatever's next.