How can data help universities to create – and maintain – an effective blended learning model?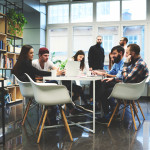 23/02/2022
How can data help universities to create – and maintain – an effective blended learning model?
How can data help universities to create – and maintain – an effective blended learning model?
Blended learning is a concept which surged in adoption alongside the onset of the coronavirus pandemic in the UK back in March 2020.
For students and teachers, it is the education-sector equivalent of hybrid working – seeing more teaching and studying taking place virtually than in physical classrooms.
And while many schools, colleges, and universities have now returned to in-person teaching, there are still institutions that are making the most of remote operations – or planning to make this a core part of their strategy as they look ahead to 2022.
Our sales director, Caroline Lewis, recently spoke to Digitalisation World – exploring how data can help universities to create, and maintain, an effective blended learning model, and how harnessing vital data insights can help to enable this. If you missed the original article, catch up below…
The digital transformation scene in higher education
In today's ever-evolving digital landscape, reliance upon technology to help complete daily tasks – both in and out of a learning or working environment – is greater than ever. However, rewind to the start of 2020 and perhaps this was not as prevalent in the education sphere as it is today.
In fact, March 2020 acted as a wake-up call for many schools, colleges, and universities alike – seeing digital transformation projects soar and teaching make the overnight transition from face-to-face to completely virtual.
While some higher education (HE) institutions were more au fait with delivering part of a course online, few were geared up to do this for every lesson or seminar – new processes and habits therefore had to be formed.
It was a steep learning curve which saw high numbers of education establishments make investments in unified communications and collaboration (UC&C) solutions – such as Zoom and Microsoft Teams – at pace. They did this not only in order to bridge the physical divide between teachers and pupils but equally to help learning continue seamlessly.
Despite it taking time for all sites to adapt to this new style of teaching and studying, it quickly became a crucial part of the education puzzle during the various lockdown periods, and has since become a mainstay for many within the sector.
In May 2021, it hit the headlines that a third of Russell Group universities said they intended to carry on with a blended learning model in the next academic year.
And this is followed by a recent freedom of information (FOI) request which has revealed 69% of the 61 universities that responded are 'actively planning to implement a blended learning model in the new year'.
The FOI request also uncovered that 82% – of the 46 universities that has access to the data – said they are seeing increasing demand for blended learning. In addition, 48% have 'considered blended learning as an opportunity to reach more students around the globe', and just 11% haven't considered it at all.
It is clear the appetite for blended learning is not going anywhere fast – from both a student and staff perspective – but the real question is how can sites get the most out of their tech investments, and use the data from these platforms to drive positive change forward?
Data analytics to streamline operations and enhance experiences
In the same study carried out by Citrix, it emerged that 90% of universities believe 'they have the necessary technologies in place to operate a blended learning model today'. And while on the surface, this may be great news for the sector, it's vital to note that the tools needed to ensure maximum return on investment from these technologies should not be overlooked.
It is important for universities to revaluate and truly understand how much their UC&C tools are being utilised.
While obtaining an accurate picture of how such investments are performing can benefit universities' bottom line, it can also help them to understand which tech is necessary to keep and where else funds can be dedicated, alongside providing valuable evidence to help drive institution-critical decisions.
In addition, measuring adoption and engagement with tech can be a pivotal part of the puzzle when gauging the truth behind staff and students' wellbeing, too.
But, it's difficult to determine any of this without the intelligence to back it up.
Insight can help university staff to not only measure the user adoption of software, such as Teams, but analyse how many students are engaged in online lectures, and how many of them have their cameras on during seminars.
This isn't to enforce a 'Big Brother' environment though, rather to provide an effective way to identify the success of online teaching methods, measure collaboration success, and also flag up any potential engagement concerns.
For instance, a student who frequently misses lectures or always has their webcam off is not necessarily  disinterested in the content. It could be indicative of wider technological or wellbeing support needs – something that could be easily missed without data-led visibility.
As a result, if staff are able to utilise customisable dashboards to identify trends in attendance and lesson input, this provides them with the evidence to warrant early intervention – helping to mitigate any course drop-outs and offer additional help where needed. Moreover, IT teams can harness this insight to see the number of unsuccessful connections and pinpoint infrastructural weaknesses.
This helps to foster a more informed approach to blended learning – allowing staff to assess what's working well and which areas, or which students, need greater attention.
Ultimately, having this level of insight available to dip into at any point can also contribute greatly to determining – and enhancing – both the student and staff experience.
And with noise in the headlines recently surrounding how some UK universities have been advised to repay tuition fee loans to disgruntled students who weren't happy with the experience provided with online lessons, it's never been more important for institutions to have oversight of their UC&C data – and an understanding of the stories this tells. Additionally, by supporting universities to understand true engagement of their student base, data can be used to identify the individuals who have recorded minimal attendance and interactions, therefore further evidencing if refunds are applicable.
The role of data in the future of education
There's no denying that the pandemic has transformed the 'look and feel' of education – and this tech-first mentality does not show any sign of slowing down.
Providing the same digital experience to students and employees both on and off campus is naturally a priority for in-house tech teams. And with hybrid studying seeming like a permanent fixture, it's clear that data holds the key to helping institutions have more insight into how successful or not this is.
In essence, with the right analytics tools in place, establishments within the education sector can avoid operating in the dark – channelling data intelligence to find out what investments would fine-tune their blended learning operations and further support staff and students in creating a productive, collaborative, and educational environment both in the present and into the future, too.