The role of UC&C in an increasingly hybrid working landscape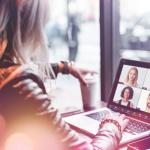 24/11/2022
The role of UC&C in an increasingly hybrid working landscape
The role of UC&C in an increasingly hybrid working landscape
As hybrid working styles continue to take precedence, unified communications and collaboration (UC&C) technologies have never been more in demand. With colleagues working from a variety of locations, businesses must ensure that their teams remain united — working together to reach company goals, just as diligently as if they were all in the same building.
The UC&C market has proven a crucial enabler of homeworking, providing data which illuminates trends in productivity and engagement — something which, without the relevant insights, would prove trickier to measure for remote workforces. 
Exploring how the unified communications and collaboration market is changing — and the crucial role that innovative solutions are playing in such a shift — our COO, Ben Nicklen, joined a host of experts to discuss the topic further with Comms Business.
Here are Ben's contributions, in full…
What customer problems can resellers and MSPs (managed service providers) solve through UC and collaboration solutions?
When it comes to customer problems, the biggest — connectivity — has already been solved. But as hybrid working continues to be an accepted norm, approaches that were built out of necessity will need to evolve. Which elements will businesses keep and what needs further improvement? What works for one person, won't necessarily suit another which means businesses will need to find a solution that accommodates a variety of preferences. For example, not everyone favours remote working or Teams meetings so advising organisations how to adapt to different likes and dislikes — and recommending solutions that enable them to cater as effectively as possible to every team member — will be crucial.
In addition, companies are constantly seeking increased efficiency. Therefore, making meetings more productive, with an effective method of detailing actions and outcomes is important. Before the pandemic, while recording calls was common, documenting a face-to-face meeting in the same way was largely unheard of. Therefore, unless you had a proficient note-taker detailing the discussion and any action points, much of the conversation would, effectively, be lost forever. However now, with virtual meetings taking precedence, recording meetings has become almost a default. By providing people with the ability to re-visit a discussion, not only is compliance and transparency improved, but actions, outputs, and to-do lists can be dealt with in an automated fashion.
And as the working world move towards offering increased individualism and flexibility, the ability to record meetings complements this philosophy — reducing the pressure to always be physically present at a particular moment in time. For those who want to be privy to the discussion, they can still catch up later — regardless of their physical whereabouts while the meeting takes place.
Ultimately, increased automation will continue to improve the meeting experience. While businesses continually review and evolve their processes, vendors will too — creating solutions that are interactive, engaging, and fit the flexible nature of organisations today. Playing a key role in bringing these solutions to life within their businesses, resellers and MSP's can help customers to 'pick and mix' the right packages for them.
How is the UC and collaboration market changing?
The cloud has revolutionised the market. Having delivered transformational change in such a short period of time, there's now no going back. The small number of businesses that haven't already migrated over to the cloud, are now generally looking to transition – starting with a hybrid model. Having adjusted to this new way of working, companies are now viewing their subscriptions as an ongoing business cost – they know how vital it is that they are able to communicate with customers and partners in a way that works online. The most efficient way to do this is via the cloud.
During a period of necessity, namely the Covid-19 pandemic, businesses chose 'one size fits all' options such as Zoom or Teams. But as these technologies have become increasingly entrenched, larger organisations have begun to explore solutions that better fit their unique needs and growth journeys. Therefore, rather than using ready-made options, companies are looking for customisable packages, that can evolve alongside their business. As a result, organisations are looking to embed the capability to use existing technologies such as Teams, Cisco, and Zoom within their own apps — leaving providers to consider the extendibility of their offerings and data.
As uptake of these platforms has increased, companies have been gifted with a wealth of feedback. This is used to both inform and drive rapid innovation and integration in the form of small incremental improvements, but on a plentiful basis.
Ultimately, businesses now need to start to understand their employees' collaboration habits, to inform their own future of work strategies and empower their people to become successful in a way that works for them. In a time of recruitment challenges, companies can't afford to lose their best talent, so finding a way to work with colleagues and create a hybrid offering that not only suits, but adequately engages, a range of personalities and working preferences will prove essential.
Creating immersive meetings is another evolving picture, so finetuning this experience — understanding how it becomes truly collaborative and inclusive of people physically in the room, or any remote attendees — is a science that is yet to be perfected. Figuring out where people should look in order to include all invitees, and then establishing how the success of these occasions can be measured, will be another forthcoming priority – both for software developers and businesses themselves.
What opportunities remain untapped?
Additional security presents an opportunity for companies who wish to place themselves front and centre when it comes to the protection of sensitive data.
Data analytics and compliance functionality is another area which could be further maximised for many organisations. For those without a process in place to store information beyond the standard periods offered by the cloud, businesses leave themselves at risk of being liable for breaking regulatory or compliance guidelines. Companies often don't know what they'll be asked several months down the line. Should a complaint arise, with no evidence to verify or dispute the claims, companies could be deemed to be responsible – whether at fault, or not.
Shape the data you store, as needed by you. Companies often have access to data, but they're unable to easily view the information in a way that's meaningful to them. Making the best of the data that a business holds can unlock valuable insight that can inform future plans and success.
With an increasing reliance upon video calling, calls which used to take place 'on the road' are becoming less feasible – thanks to an unfavourable contention ratio. Remedying this by offering a choice to join on an audio-only basis from the very beginning of the call would offer flexibility for people to work around their travel times. There is also now a huge dependency on government and mobile operators to implement the infrastructure required to support the demand.
Are there any emerging technologies or features that you expect to become commonplace in the next few years?
With access to recordings comes an opportunity for voice and sentiment analysis. A means of measuring what people say, versus how and when they say it, it could offer a valuable insight into attitudes and engagement among colleagues, clients, and prospects alike.
In the coming years, augmented and virtual reality are likely to become important parts of the remote working experience. For those working remotely, inclusion — perhaps via AI glasses — could see them included 'in the room' in a way that hasn't previously been possible. While this may sound like a stretch right now, when we consider that Google was invented just 25 years ago, it's much easier to see how quickly this could become reality.
Catch up on the full article from Comms Business, here: https://www.commsbusiness.co.uk/content/market-report/boundless-communications
If you have any questions about how Tiger Prism can help provide insight for your business, get in touch via our contact page or email hello@tiger.io.