Tiger launches new self-service web form to enhance partner and customer experience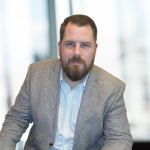 18/04/2023
Richard Burt – Head of Service Management
Tiger launches new self-service web form to enhance partner and customer experience
Here at Tiger, we're a people-first company — our staff, partners, and customers are at the heart of everything we do. This is reflected in our value to achieve together. The web form will bring a number of enhancements and benefits to our partners and customers.
What has Tiger launched?
We've launched a new web form for our partners and customers, which enables them to quickly and easily raise a support case with our services team.
While this is to replace the previous method of emailing us, it's important to mention that you can still give us a call — we're always at the end of a phone (01425 891000 option 2) if you have any questions or need help!
How do customers log a support case?
After filling out the required fields on our dedicated web form, within a few minutes, customers will receive their unique case number. The customer can reply directly to this email if they wish to add any more details to their case, too. This means information is automatically updated and easily accessible in one thread — instead of being spread across multiple emails — and our Tiger agents are notified of any updates in real-time.
Why have we changed our case-logging process — and how does it benefit customers?
Customers can connect even quicker with our services team.
By capturing more information first time — when compared to multiple emails – this enables us to review and resolve cases quicker.
Using automation means that managing a case will be easier and smoother for everyone — with no detail lost on email or phone calls.
Customers are kept up to date in real time about if their case has moved to a different resolver team.
We listen to our customers and there's clear demand for this kind of communication medium.
When is this coming into effect?
There's no time like the present, so this feature is available now! We plan on completing the migration to the new web form method by at the beginning of May, when it will then no longer be possible to raise a support case via email.
If you have any questions, please get in touch with your account manager
or give us a call!