Transforming the way you work using data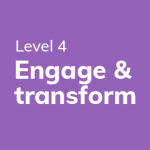 27/09/2023
Transforming the way you work using data
Transforming the way you work using data
Many companies have explored – and rolled out – flexible working models to keep staff motivated, benefit customers, and accommodate evolving expectations.
In education, for example, schools, colleges, and universities shifted to distance learning during the pandemic, and teachers are now increasingly using video and instant messaging to collaborate and share knowledge with colleagues.
And let's not forget students too. For example, for learners logging on from home, if they don't turn their cameras on during a lesson or keep dropping out of video calls, data from these sessions can help to identify if there are potential wellbeing or technical issues. And if patterns are emerging, that could signal a particular individual requires further 1-2-1 support.
But this doesn't mean that 'Big Brother' is watching. Instead, UC analytics provides the detail to help organisations – across all sectors – to enhance engagement, improve blended learning or hybrid working models, and provide flexibility and accessibility for all.
Iron out bottlenecks
This shift to different working models has been an alien environment for some. Technology has been a solution for many, helping facilities armed with unified communications and collaboration (UC&C) tools, to deploy this intelligence to iron out staff pain-points, improve engagement, reduce operational bottlenecks, and better support employees.
Make business-critical decisions swiftly
Armed with real-time information – and a 'single pane of glass' view – data can further assist senior teams to accurately report on day-to-day concerns and make important decisions swiftly. Solutions that are working can be optimised to provide crucial business insight, whilst reducing the expenditure of the tools that aren't, to engage users and transform processes.
For example, our customer, George Watson's College has gained tech visibility through our Tiger Prism workplace data analytics software, helping to streamline operations and optimise IT budgets. Learn how it has transformed and enhanced its learning provision, here.
Are you ready to utilise data so you can safeguard your workforce's wellbeing, drive company culture, retain top talent, and provide an outstanding experience?
Learn more about Level 4 and the various other levels of support that Tiger Prism offers by downloading our free guide or get in touch with a member of our team by emailing hello@tiger.io or calling 01425 891000.