Why is workplace analytics important to the healthcare sector?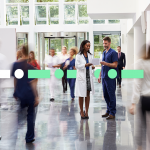 31/07/2023
Why is workplace analytics important to the healthcare sector?
Why is workplace data analytics important to the healthcare sector?
Pressure on the healthcare sector has arguably never been higher. Staffing shortages, underfunding, and excessive waiting lists are just a few of the issues facing teams of doctors, nurses, administrative staff and leaders on a daily basis.
And with scrutiny around the NHS and its partners ever-increasing, it's vital that trusts are seen to be investing in solutions which will help alleviate some of the difficulties being faced by the sector – before the situation spirals further.
This is where data analytics can prove key. With many healthcare sector providers already sitting on a wealth of information, the process of uncovering actionable insights can help to bring meaningful and quantifiable improvements – both in terms of patient care, and staff morale.
Monitor staff engagement and wellbeing
When we think about the sector, it may be only the doctors and nurses on the frontline that spring to mind. But in the background, there's a network of community- and desk-based workers — in often dispersed locations — performing a variety of important operational tasks.
The stresses experienced in a pressured sector aren't limited only to clinical teams. So, keeping abreast of engagement levels via data analytics and UC&C data can deliver important insights around the wellbeing of everyone from administrative staff to team leaders.
Anomalies can be followed up, with any interventions — such as extra training, wellbeing support, or additional team members — quickly put in place, before the impact is felt more broadly.
Enhance human resource and improve customer experience
Being in the thick of the additional demands of today's healthcare environment, it can feel like every day is overwhelming. But by monitoring and comparing important call data, settings can ensure that staffing demands are accurately predicted – to help better anticipate peaks and troughs in services. And to re-distribute colleagues appropriately.
Whether this means better staffing the appointment lines at the doctor's surgery, managing calls through a triage service such as 111, or monitoring the numbers of emergency calls through the 999 provision – with highly accurate insights, leaders can aim for continuous improvements in their service and safety levels.
Likewise, making data driven staffing decisions, all colleagues can feel confident that the correct support is in place to help them to do their jobs – aiding job satisfaction and retention.
Optimise technology investments
For businesses which upgraded their infrastructure to accommodate homeworking during the pandemic, or for those looking to further optimise their current provision, deciding where to focus attention and spend can be tricky – and can have significant cost implications.
For those with Microsoft Teams licenses, gaining insight into usage can be a crucial piece of the puzzle. Some companies may initially have invested in the highest package, but upon analysing their data via Tiger Prism, may now find this surplus to their needs. Optimising these licenses alone, can lead to substantial cost savings.
Likewise, for those running busy phone lines, properly exploring the UC network via data analytics can prevent unnecessary and expensive upgrades. By restructuring the UC network and redeploying any underused channels, bottlenecks can be alleviated in a cost-effective manner – preventing dips in customer satisfaction at peak periods.
Plan for the future
If the time has come to migrate estates from legacy to new UC&C technology, Tiger can help with short term data collection and analysis projects which offer an abundance of insight into a company's current tech usage.
This includes information such as:
licences used/not used;
call capacity – volumes, duration, routing, time of day trending;
efficiencies – staffing levels, KPI's.
Not only does this help in establishing which upgrades would be beneficial to you, it also supports tender exercises for new tech investment – something which is frequently requested during the tender process. By obtaining accurate estate insight, upgrade costs can be vastly reduced – with businesses avoiding overspend on unnecessary additions.
So, in a data rich environment, properly understanding the insight is crucial – and can be an economical way to drive both patient and colleague-focused improvements throughout the service.
Speak to our team to see how Tiger Prism can drill down into your data, with far-reaching benefits. 
Discover how one NHS Trust in the north of England embarked on a large-scale Unified Communications (UC) upgrade. Our Tiger Prism workplace analytics software was selected to understand UC traffic, capacity and adoption levels.