Full steam ahead as Tiger announces management buy-out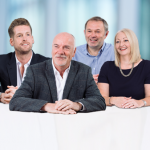 21/06/2023
Full steam ahead as Tiger announces management buy-out
The team at Tiger are delighted to announce the next chapter in their journey: a successful management buy-out with some of the firm's longest-standing employees.
The team have completed a self-funded internal management buyout, which acts as a natural succession plan and partial exit for owner Stephen McCallum. Partners are Ben Nicklen, who is being promoted from COO to CEO as part of the transition, Caroline Lewis (Sales Director), and Phillip Smith (Software Director). McCallum will remain partner and Chairman.
CEO Ben Nicklen says: "We looked at what makes us strong and stable as a business: the people and the culture. We have excellent product and help our customers through their UC journey. We wanted to honour Stephen's succession plans and also ensure our growth efforts were rewarded."
This management buyout marks a key step in the Tiger journey. Since 1979, the company has continued to grow and now employs more than 40 people, integrating with leading OEM platforms to serve more than 600 enterprise customers.
More than 60 years of experience
With a strong team behind them, the board began proceedings in September 2022. Between them, senior managers Caroline, Ben and Phillip offer more than 60 years' experience rising through the ranks.
Phillip joined Tiger as Software Director in 2013, and continues to head up product innovation today. Caroline came on board in June 1999, working from account management roles through to her current position as Sales Director. Ben also held a sales director role, having joined in 1998 and been promoted to COO before his current role as CEO.
Caroline says: "Ben and I have been on a long journey. It's really important for us both that we've worked in every part of the business, from the technical ground up, right through to the board."
Future plans for Tiger
The MBO comes off the back of a successful fiscal year for Tiger. In May 2023, the team announced an MRR of £290,000, following sterling performance the previous year. In December 2022, Tiger had continued its SaaS transition and saw subscription services grow by 20%, and professional services by 25%.
Tiger will continue to focus on organic, stable and people-led growth, coupled with new product innovations. Software Director Phillip Smith says: "We continue to innovate and lead the way in the Unified Communications sector, enhancing our integrations with the Gartner Magic Quadrant UC&C platforms against an ever-changing landscape of business needs."
Tiger's flagship product, Prism, is also undergoing developments to aid its maintenance and upgrades. Phillip continues: "My team are busy extending Prism, building back-office parts to make deployment easier. We've integrated with leading platforms including Microsoft Teams, RingCentral, Zoom and Cisco Webex."
Ben Nicklen adds that the team are pursuing new partnerships, including co-selling with strategic partners, and potential product synergies.
Stephen McCallum concludes "I am delighted to announce the internally funded MBO of Tiger. Ben Nicklen, Caroline Lewis and Phillip Smith are well-placed to lead the company onto its next phase. I very much look forward to working alongside them."
If you have any questions regarding the management buy-out, please contact the Tiger team here.