We're bringing back the
'Ask the Experts' sessions
Register your space for

our next customer event
Tiger Connect Mini Event Online
Due to popular demand following our recent Tiger Connect event, we're bringing back the 'Ask the Expert' sessions. 
Details for your diary
When: Wednesday, 1st November  
What time: 10.00AM – 12.00PM 
Where: Live webinar
Running from 10:00AM to 12:00PM
10:00 – 10:15 – Welcome
10:15 – 11:00 – 'Ask the Expert ' session: Focus on Analytics with Matt Ringsell and Richard Burt.
11:05 – 11:25 – Tiger roundup / security partnership announcement
11:25 – 11:45 – Oak Innovation Partner demo
11:45 – 12:00 – Q&A / Close
Discover the power of Prism Analytics!
Unlock the full potential of your queries with insights that will transform the way you work. Learn how to create widgets to streamline your complex queries, making them accessible at your convenience or shareable with other Prism users.
Be part of the session!
As part of the registration process, we invite you to submit any questions in advance. We're committed to ensuring that all your queries are addressed. While there will be a live Q&A, priority will be given to questions submitted during registration. So, don't miss this chance to make your voice heard.
Plus, don't miss a Tiger company roundup
We are excited to update you on the latest Tiger activity, share more about our call recording solutions, and announce additional partnerships to support your security teams in gaining insights using cutting-edge solutions, all of which complement your Prism experience and ensure you maximise the benefits of Prism throughout your business.
If you're interested but not able to attend this live webinar, register anyway and we'll send you a link to the recording and presentation slides when they're ready. As ever, you can leave and join as you wish. We love the contribution our attendees make to the event, so we look forward to seeing you there!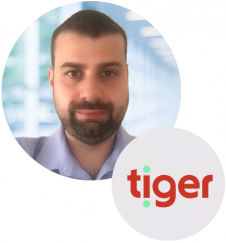 Matt is our Lead Engineer who brings unparalleled expertise and innovation to our team. With a career spanning over two decades in the tech industry, Matt has consistently pushed the boundaries of what's possible. His passion for cutting-edge technology and problem-solving prowess have made him a driving force behind our projects. Matt's commitment to excellence and his ability to lead our engineering team have played a pivotal role in our success. Whether he's diving into code or helping shape the future of our product roadmap, Matt is the driving force behind our mission to deliver exceptional solutions to our clients.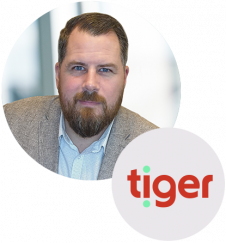 Head of Service Management
Tiger
Richard is the driving force behind our Service Management team. He has consistently demonstrated his unwavering commitment to delivering top-notch service solutions. His leadership and expertise have been instrumental in shaping our service strategies, ensuring our clients receive nothing less than excellence. Richard's passion for innovation and his ability to bridge the gap between technology and customer satisfaction make him an invaluable asset to our organisation. Under his guidance, our Service Management team continues to thrive, providing seamless and efficient solutions to our clients' evolving needs.
Register your interest for the event here
To register your interest for the event, please complete the form below. Once signed up, you'll receive an email to confirm your place.