10 minutes with: Louise Bennett, marketing manager, Tiger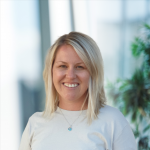 06/10/2021
10 minutes with: Louise Bennett, marketing manager, Tiger
10 minutes with: Louise Bennett, marketing manager, Tiger
Our wonderful marketing manager, Louise Bennett, recently joined Channel Comms Today to chat about her career journey, which has seen her spend more than 10 years honing her expertise for B2B tech and software businesses.
Joining the team at Tiger less than a year ago, she has already made her mark – working alongside the leadership team to achieve our ambitious growth targets.
Thanks to her love of storytelling, Louise is first in line to create strong content and thrives best when working on campaigns that really connect with our audience.
Catch up with her interview below – you won't regret it…
Q: Your first marketing job:
A: I studied Business and Marketing Management at uni and worked for a year as part of my degree. It was an internal marketing role for an engine manufacturer in Peterborough, and my days involved writing newsletters and producing 'video news' so that staff were up to date on the latest company developments. I have so many fun memories from my time there and it gave me great experience of managing a variety of projects and working across several departments.
Q: How did you get into Channel marketing:
A: It's a natural component of my role at Tiger – collaborating with partners is a key go-to-market (GTM) strategy for us.
Q: Why Channel marketing? 
A: It gives me the opportunity to collaborate with other marketing and sales teams. Personally, I love seeing shared ideas come to life through campaigns and the content produced is often stronger as a result. Working on joint campaigns with partners also enables us to strengthen our reach to new audiences – which is key for our growth strategy.
Q: Best day in the job?
A: Launching Tiger's new brand and seeing how proud everyone in the business is of the content and materials we produce as part of our PR and marketing strategy.
More recently I've been interviewing customers to learn about how they use our technology to solve their data challenges. We have some fantastic people – spanning sectors such as education and insurance – using our products in all sorts of ways, so I'm always buzzing when I've completed a customer interview.
Q: Biggest change in the industry since you started your career?
A: Social media was only just coming alive as I was finishing uni (I feel old!). It definitely wasn't used by businesses, so it's been interesting to see how that's evolved.
Q: You are a senior female executive in the Channel, has that created any challenges?
A: Not yet!
Q: What has been your most successful campaign?
A: In today's multichannel, multi-touchpoint environment I think it can be challenging for marketers to pinpoint results to a single campaign. I find that integrated campaigns which carry a strong, single message are the most effective – especially when the message has been tailored for key personas to increase its relevance. I've also seen first-hand that people buy from people – so you can't beat campaigns which allow our teams to build relationships and showcase what we're all about.
At the beginning of this year, Tiger launched analytics and reporting for Microsoft Teams. The marketing campaign featured a range of content including video, webinars, brochures, and web. We've taken it to market with partners and customers as well as directly via a range of digital channels. This approach continues to result in sales pipeline growth, delivering strong ROI against the campaign investment. There's always scope to deliver more though, and that's what makes marketing and sales environments so exciting.
Q: Tomorrow's World – what are your predictions for the future of channel marketing?
A: It feels like a challenging time to make predictions, who could have seen a global pandemic on the horizon?! If it's taught me anything, it's to be agile and adapt to an ever-changing landscape. The 'next normal' is still a work in progress and this could impact demand in the market – good or bad, depending on the product category you're playing in.
I've had conversations with fellow marketers recently about 'going back to basics' and making sure the fundamentals of marketing are strong, focusing on the right message, person, and time, and balancing both long-term strategies and short-term tactics.
All businesses – channel or otherwise – will need to continue to show the value of their solutions and services to differentiate themselves from their competition. Data and management information is key to supporting buyers to maximise their investments and future-proof decisions. I believe the role of marketing within this is to support the complete buying journey with relevant messages that help people see how you can make a difference to their (working) lives.
Q: Then and Now – what is the one thing you wish you knew back then?
A: There's a perception that marketing is just words and colours – how many times are we referred to as the 'colouring in' department?! While it remains a creative industry, there's so much more to marketing — especially in the B2B tech area. In recent years I've seen a strong focus on MarTech such as marketing automation and SEO tools as well as data — not only from an outreach perspective, but in terms of using data to drive the marketing strategy. I think this is an important thing for anyone wanting to pursue a career in the industry to understand so that they can pick out the areas they want to specialise in.