Tiger Prism's fraud alerts capture bogus insurance claims and save esure Group over £250,000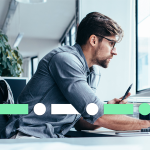 16/06/2021
Tiger Prism's fraud alerts capture bogus insurance claims and save esure Group over £250,000
Tiger Prism's fraud alerts capture bogus insurance claims and save esure Group over £250,000
According to the Association of British Insurers organisation, a new dishonest insurance claim is discovered every five minutes – and that alone costs the UK more than £1.2 billion per year.
That's why we're working closely with esure Group – a firm which serves over two million customers with five-star Defaqto car and home insurance – to tackle the rise of rogue callers.
We've collaborated with the company since 2010, but recently our partnership has led to us plugging in our Tiger Prism software to help the team's intelligence officers obtain critical call information. Additionally, they're able to plug-in real time fraud alerts to prevent bogus enquiries – at the source.
Setting up a series of proactive notifications to capture deceptive inbound calls, our workplace analytics platform can also identify callers' numbers, and notify agents and investigators at the earliest opportunity.
Some of our most notable results have included:
Stopping a persistent offender before they successfully claimed over £44,000
Assisting a social engineering project to combat phishing attacks – preventing 35 false personal injury claims and a £200,000 total cost
Referring numerous incidents to the Special Investigation Unit
Andy Pickard, intelligence team leader of esure Group's financial crime insight division, said: "Tiger Prism has helped transform the way we measure fraudulent activity.
"We want to keep utilising Tiger's tools to load more phone numbers, keep triggering vital results and, ultimately, future-proof our business."
Find out how Tiger and esure Group have successfully stopped costly claims in their tracks by reading the full case study here.
Discover information on our fraud management capability here. 
If you'd like to find out more about our software, regardless of your size or sector, call: 01425 891000 or email: hello@tiger.io