Tiger takes centre stage in partner podcast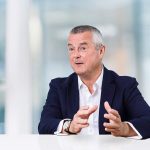 25/02/2021
John Shannon
Partner Director
Tiger takes centre stage in partner podcast
Earlier this year, our Partner Director, John Shannon, was invited to be interviewed by one of our partners, specialist IT and communications provider, Natilik, on its company podcast, NatChat – available on Apple Podcasts.
The theme of the 20-minute session was the power of workplace data analytics, insight, and collaboration – with John providing insight into Tiger's heritage, how we've developed as a brand, and the role of analytics in business performance.
Setting the scene
To give the NatChat listeners a flavour of who Tiger is and the role John plays in the organisation, this saw the host, Robb Thaw, quiz our senior leader about his extensive experience within the tech and partner industry. This covered John's 20-year tenure working within the Cisco environment, and how Tiger was initially a client of his in 2006 – when he was the CEO of his own company, Channel Intellect.
80% of what we do here at Tiger is through partners – 50% via Cisco partners – and this is what John deals with in his day-to-day role.
He is passionate about building strong partner relationships, and also spends his time supporting our sales team – ensuring we provide the best possible collaborative experience.
The role of data in the workplace of the future
We love data. It's no secret and it's something we're very proud of here at Tiger.
In the podcast, John was asked about what Tiger does and the power of workplace data analytics. And while it's a subject which he – and the rest of the team – could wax lyrical about all day, he summed it up perfectly…
In its simplest sense, Tiger's technology captures patterns and changes in a company's data that's generated by its telephony and unified communications and collaboration systems. Organisations can then harness these insights to make more informed and intelligence-backed business decisions.
Ultimately, this has the power to transform how firms work and improve collaboration across their enterprise's voice, video and conferencing platforms.
He concluded by highlighting how important this is, especially as we move into the 'next normal' following the pandemic.
Looking at the changes of the last 12 months
There was also a period of reflection in John's interview, which looked at learnings from 2020.
He explained how, for the entire business landscape, one of key reflections has been realising the importance of adaptive leadership. The projected timescales and deadlines organisations had in place were shaken up and delayed. All enterprises had – and continue – to adapt to the ever-evolving battle picture.
John also explored this view from Tiger's perspective – explaining how our unwavering focus on the tasks ahead have kept us going successfully as a team. Throughout the numerous lockdowns, we've welcomed a new CEO, rebranded, and developed our product offering – launching Tiger Prism for Microsoft Teams.
He also shared his key ethos – both personally and professionally – of always keeping going. And how this mindset is vital in helping to overcome not only the challenges thrown up by the pandemic, but life's general twists and turns.
So, what's next for businesses and their data?
As distributed, hybrid workforces will continue to be ingrained in daily life, there will be a continuously evolving need to ensure the wellbeing of staff members – to help them to remain connected and feel motivated and empowered when working from anywhere.
For companies across the board, rethinking how we work and giving teams the tools to help them feel supported and productive remotely, is, and will remain, crucial.
John shared some feedback from our customers around how, in the current climate, they're focused on ensuring different areas of their organisation are collaborating – helping to eliminate silos.
But while companies have been adapting and investing in getting collaboration infrastructure in place, the next step is to know to what extent it's being utilised – as this could be masking a wellbeing or training issues.
What's next for Tiger?
The interview concluded with John sharing the direction of travel for Tiger over the coming months.
And as well as continuing to learn from the vendors we work with and fostering those all-important industry relationships, we'll keep listening attentively to our existing customers and prospects, to develop our technology to what they need – remaining relevant as environments continue to adapt.
As well as data, we also love innovation – and together, this is a combination which we believe makes our future a very exciting one.
If you're interested in listening to the podcast in full, tune in via this link. Or if you'd like to find out more about the partners we work with, and how you can get involved, visit here.