Why is workplace data analytics important to the insurance sector?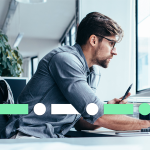 21/07/2023
Why is workplace data analytics important to the insurance sector?
Why is workplace data analytics important to the insurance sector?
With people now owning an ever-increasing number of insurable assets – from houses to cars, jewellery to technological devices – it's no surprise that the insurance industry is thriving. But for those working within the sector, fraud remains an increasingly significant concern – which costs the sector billions of pounds each year.
But while criminals employ increasingly sophisticated methods to evade detection, insurance providers have responded – seeking out solutions to help identify offenders and scupper them in their tracks.
For many providers, data analytics play a key role in detecting suspicious claims — often within minutes — saving companies substantial amounts of money in the process.
Here's why workplace analytics is crucial for the insurance sector…
Call tracking
Capturing and storing information from every interaction, call tracking can help identify suspicious activity – and then flag any subsequent communications from linked numbers.
And with call data safely stored to complement your businesses data retention policies, the details can be retrieved and used to aid any subsequent criminal investigation — helping to bring offenders to justice.
Proactive alerts
Proactive alerting functionality means potentially fraudulent calls will be highlighted to operatives at the earliest opportunity — providing them with a signal to utilise any relevant training around bogus calls. Meanwhile, notifications will also be escalated to managers, highlighting the need for further investigation.
This ability to identify suspicious calls in real time allows agents to follow required procedures, reduce the risk of fraudulent financial losses, and conduct any additional enquiries required to escalate a potential case of fraud to the relevant legal authorities.
Trends
With ongoing call monitoring, companies can begin to identify suspicious patterns of behaviour including linked phone numbers, key times for bogus calls, and any other notable factors. By building this kind of intelligence, companies can use this to inform training and reduce the risk of subsequent scams.
Call trends can also be useful more generally, highlighting peaks and troughs in volume — while ensuring adequate representatives are available to satisfy demand and improve customer experience. Likewise, the ability to monitor call wait times, durations, and any dropped calls helps to track customer sentiment while providing further context to enquiries or complaints.
Optimise technology investments
The insurance industry can be a crowded marketplace. So, with high levels of competition, delivering a positive customer experience is vital. Long waits on the phone and faulty lines can quickly become off-putting for a caller – who may subsequently pick up the phone to a competitor.
However, identifying issues via data analytics, insurers can quickly rectify any issues with their UC networks – minimising any negative impact upon the client and helping prevent a potential switch to an alternative provider.
With a view across their entire UC estate, insurers are able to make data-driven decisions around technological investment; exploring the effectiveness of current networks and unlocking any existing opportunities to optimise their current provision.
Reach out to a member of our team today, and find out how Tiger Prism can reduce fraudulent activity and increase customer satisfaction within your insurance business.
Find out how Prism's fraud monitoring and alerts helped save esure over £800,000+, read the case study here.
Watch Iain Jones, Financial Crime Insight Manager at esure, present at our Connect event, where he explains how they utilise Tiger Prism to combat fraud.
Get in touch for your demo today.