Your guide to integrating Tiger Prism with Microsoft Teams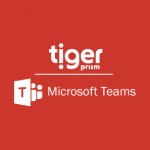 12/05/2023
Your guide to integrating Tiger Prism with Microsoft Teams
Your guide to integrating Tiger Prism with Microsoft Teams
According to UCToday.com, Microsoft Teams now has 250 million monthly active users. Thanks to its integrated features with other Microsoft tools including Microsoft 365 for businesses, it's fast becoming the videoconferencing tool of choice for thousands of UK enterprises.
Tiger Prism is fully compatible with Microsoft Teams, helping to monitor staff performance and wellbeing through data.
Optimising your unified communications for ROI
Beyond the native reporting of Microsoft Teams, Tiger Prism offers unrivalled insight into user activity. This can help to cut down on costs and keep staff productive, wherever they're working. It starts with looking at your current licensing agreements – stop wasted costs by assessing exactly how many people are using their Microsoft licence to its full capacity.
With a better idea of your return on investment, you can then drill down into how it's being used. Store data for an  extended period of time in comparison to Microsoft's retention policy to help you make future business decisions.
Understand meeting quality
Whether it's audio or video calls, find essential data on call performance. Discover where bandwidth may be limited or call quality is lacking – helping to get a better picture of your devices and plan your spend.
Volume and type of interactions
Want to know how many people are using Microsoft Teams, and how often? Reassess licensing agreements and help plan your workforce's time by understanding who's using it, and how.
Keep your procurement teams informed
Do your users have a preference over which device they use to access Microsoft Teams? Learn more about desktop and mobile device use to help make future funding decisions.
Monitor your teams' productivity and wellbeing
As we continue to navigate the hybrid working world, the need to monitor staff wellbeing has never been stronger. Among the biggest challenges for remote workers was attaining a work/life balance – and many management teams may feel they cannot "check in" on their staff.
Tiger Prism's integration with Microsoft Teams offers a  variety of dashboards to illustrate how engaged your teams are. Find  valuable insights on metrics such as:
Top users
Interaction types
Team adoption
Peaks and troughs in usage
Call length and quality.
With all your staff's unified communication data in one integrated platform, you can assess who is getting the most out of Microsoft Teams. You can also monitor employee absences and interactions between staff members to determine if there are any wellbeing issues to address.
Improve your customer service with call queue analytics
Tiger Prism's  dashboards allow you to spot trends in external and internal usage. This is essential for monitoring customer service. Using quantitative data such as call volumes, average wait times and average talk times, you can identify areas for improvement.
Go as granular as you like, and combine qualitative and quantitative data. Line up call outcomes with customer service metrics to get a better view of what your customers are thinking. Our new call queue  dashboard  introduced in 2022, empowers not only your staff but your customers too.
All the information you need in one scalable dashboard
Think of our product as a 'single pane of glass'. Tiger Prism offers scalable integration with Microsoft Teams, allowing you to view your entire unified communications stack in one platform. It evolves with you as your tech adoption grows, helping to identify how teams are using features such as:
Video
Voice
Screen sharing
Peer to peer chats
Teams channel support
This data is yours to visualise and store for as long as you like. Make long-term strategic decisions about staff engagement, technology costs and customer service. You can also assign role-based access to make sure no privileged information is leaked.
Looking for a multi-pronged tool that keeps your staff happy, your margins high and your customers satisfied? Download the feature sheet or ask for a demo of Tiger Prism with Microsoft Teams today.