Where are you on your
analytics journey?
Unlock the full potential of your UC&C data
The UC space is varied and complex, so it is unsurprising that companies have equally multifaceted requirements when it comes to their analytics needs.
But one thing remains a constant throughout – organisations are increasingly reliant on technology to generate meaning from their communications and collaboration data.
So, whatever the maturity of your UC vision – and whether we're depended on by your telecoms department alone or the entire business – we have the software. Tiger Prism.
And, if/when you want to 'level up' as your organisation continues to evolve, our feature-rich workplace analytics platform grows with you, so you continually maintain a single pane of glass for your data – however intricate.
To presume organisations will progress on a simple, linear analytics journey would be naïve – not least because of the multiple external factors constantly impacting the UC space and wider business environment. Tiger Prism therefore flexes and adapts alongside you – we can even integrate with different UC vendors.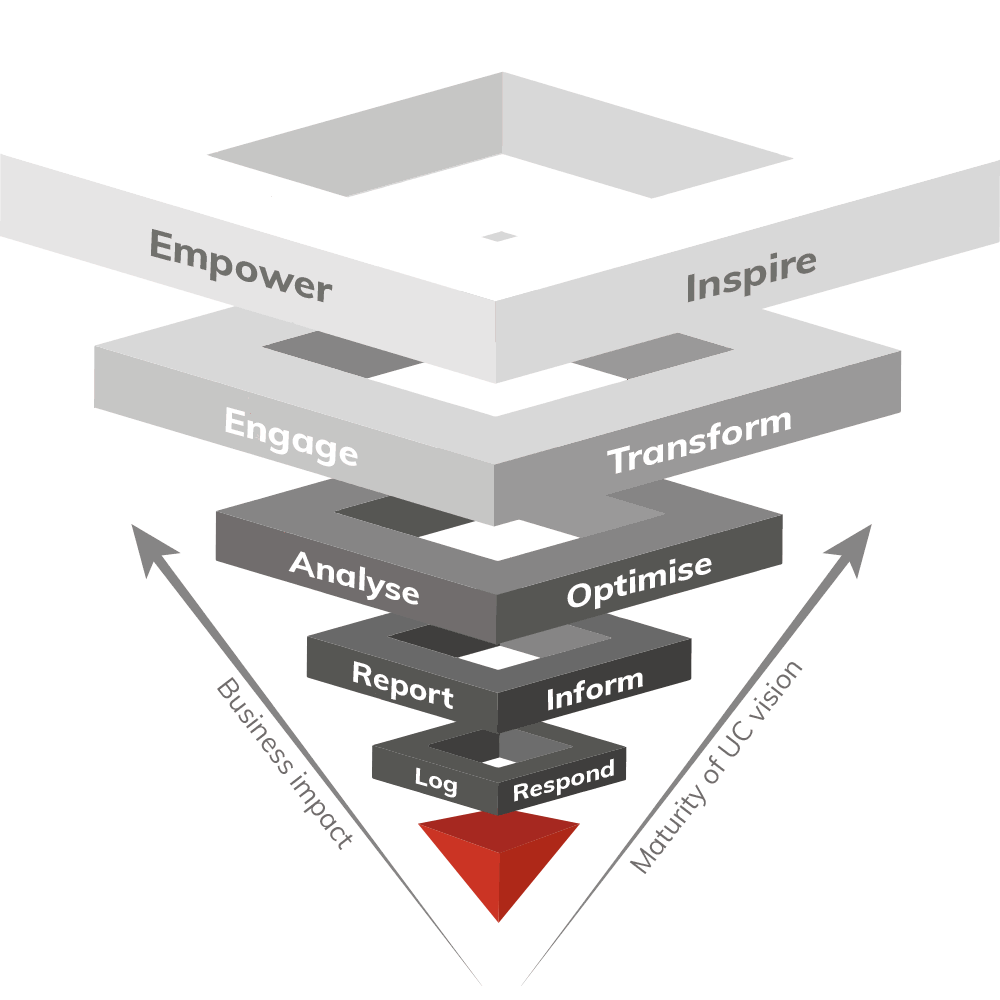 Empower & Inspire
Leverage the maximum potential of predictive workplace analytics, by unleashing omnichannel, department-wide business intelligence that empowers change.
e.g. from safeguarding against complex compliance risks to building comms resilience whatever the strain, Tiger Prism ensures UC&C analytics become the backbone of your organisation.
Engage & Transform
Harness the true power of UC&C insight through a suite of transformative reports that facilitate business-wide, data-driven decision making.
e.g. whether delving into employee wellbeing, driving cultural change, or justifying a 6-figure UC&C refresh, even the most discerning CIO can deliver the management information leaders really need about their teams.
Analyse & Optimise
Simplify the visualisation of UC&C data – however complex your tech stack – with intuitive dashboards that unlock business-wide insight.
e.g. proactively analyse the granularity of intricate UC&C metrics (which aren't available natively) so that IT/telecoms deliver revenue-generating value.
Report & Inform
Create automated reports to better display and understand call and collaboration data, across your entire UC estate.
e.g. identify tech usage patterns, plan capacity, and measure costs, to benchmark and improve team performance.
Log & Respond
Capture, store and investigate every call and interaction made internally and externally across your organisation.
e.g. quickly and easily explore the date, time, and length of employee and customer calls.