CATCH UP: A Tiger Prism update and more on UC analytics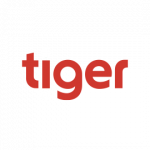 29/04/2022
Tiger
CATCH UP: A Tiger Prism update and more on UC analytics
Following a hugely successful turnout for our first #TigerTalks webinar of the year – using data to drive a hybrid future – we got back on the mic, this time to provide Tiger customers with our latest software developments which included a sneak peak of a new release!
Joining our head of marketing, Louise Bennett, online (on Thursday 28th April) was Tiger's chief operating officer, Ben Nicklen. Kicking-off the session, Ben delved into what he'd been seeing in the UC analytics space since our last update in Autumn 2021.
"We're beginning to see a real appetite for information as organisations get back to 'the norm', with many adopting hybrid working approaches," he said.
"Several leaders have been reassessing decisions that were made at the start of the pandemic. And for the thriving businesses who have been able to move beyond the Covid-19 crisis, they're now refocusing on their longer-term strategies and getting a better understanding of the role that data plays."
Ben commented on how vendors who may have lost market share and traction have begun to make a comeback, referencing Cisco's significant growth, and how there's a real need for a specialist workplace data analytics solution that offers real-time insight to better inform key decisions.
Using data to empower longer-term thinking
Following our ongoing conversations with Tiger customers about how this shift – or rather refocus – is impacting their longer-term thinking, Ben explained how we've evolved our business as a result.
"While we've continued our strategy of being a vendor-agnostic data analytics business, we've been centred on value-adding capabilities that align to the biggest players in the market such as Microsoft, Zoom, RingCentral and Cisco," he commented.
"From this, we've started to see additional customer use cases which wouldn't have been possible with previous cloud-base reporting tools. This additional depth has presented us, and our customers, with a greater level of detail and provided depth, opening up new data streams as a result."
At the midway mark, Ben provided a live demonstration of our Tiger Prism advancements in particular with our Microsoft Teams integration – which we launched last year – covering a range of functionality to help leaders optimise their licences such as call quality widgets, call queues analytics developments, and then some.
Find out more about our Teams integration as well as upcoming RingCentral and Zoom releases – coming soon.
In our interactive session, the audience poll made for interesting reading too. Asking attendees 'How long are you storing and accessing data from your UC&C systems?' there was quite an even split.
29% of respondents said they had indefinite data storage or access to it for around two years. Meanwhile, a tenth of people (11%) revealed they lose data after 30-90 days. If you want to find out more about protecting your insight, Tiger can help.
Commenting on the importance of keeping data, Ben added: "It's all about the extendibility of data and how it's used across the entire business. The granular insight that Tiger stores indefinitely is helpful to other areas of the organisation, and that's vital when offering full visibility."
Louise agreed, saying there was a lot of value in the information that users can glean and how it's contextualised. She also said it's about, "preparing and making sure you have the data and information you need, when you need it."
Tiger's launch of Qube
Customers were then treated to an exclusive look at our new product, Qube. Launching soon as a free-to-use data automation tool, Ben demonstrated the solution's ease-of-use when combining data from multiple sources swiftly, enabling users to interrogate detail in real-time and make meaningful decisions.
Following the new launch announcement, Ben also provided a snapshot into how Tiger had developed its data storage and listening service capabilities, and improvements made following Cisco Webex APIs now being made available. Both he and Louise underlined the importance of customer dialogue and how understanding their challenges has driven forward our timely software enhancements.
We had some fantastic questions from the audience too – covering topics including Avaya advancements, data storage security, and a potential face-to-face Tiger user group in future.
Thank you to everyone who attended one or both of our April #TigerTalks Spring series. You can watch again here.
If you'd like to get in touch with a member of the Tiger team about anything discussed across these sessions, or ongoing queries covering UC analytics, please drop us a line on hello@tiger.io