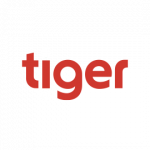 21/12/2022
Tiger
Tiger's 2022 highlights
With only a few weeks left of the year, the Tiger team has been taking some time to reflect on the past 12 months – at what we've achieved, together.
From webinars and events to new product releases and thought-leadership contributions, it's been a jam-packed schedule with lots of challenges and opportunities.
Without further ado, here are some of our top picks…
Launching our levelling-up campaign
Earlier this year, we unveiled our latest resource – A guide to levelling up your UC analytics.
It explains the five levels of UC within our Tiger Prism software and delves into how organisations can make their data work even harder – to empower their teams and drive positive, strategic change across the business. It includes a selection of case studies too, and it's a resource we're very proud of!
Delivering our springtime webinar series
Another key highlight for the team was the series of online events we presented back in the spring.
From panel sessions talking about 'using data to drive a hybrid future' – catch up on part one and part two – to a Tiger Prism update and more on UC analytics, these interactive and thought-provoking discussions were just what we needed to kickstart an exciting Q2!
Hosting our 20th customer event
What a milestone in Tiger's history! 2022 saw the return of face-to-face conferences for us, and we held our Tiger Connect event at Shakespeare's Globe in London.
It was a day for colleagues, customers, and partners of the business to come together and share learnings and insights, as well as discuss what the future of the UC tech stack will look like.
Announcing our new Zoom integration
It was only recently that we launched our Zoom Phone integration – complete with advanced UC analytics and historic data retention features.
This enables Zoom customers to understand the technology's performance in the context of their wider UC estate – being able to make improved, data-driven decisions as a result. It was a key celebratory milestone in our product roadmap that wholly deserves a mention – our feature sheet is pretty slick too (if we do say so ourselves)!
Creating key content for our partners
In February, we launched our 'channel partner series' over on the blog. This comprised a number of articles throughout the year, focusing on different departments within partner organisations. So, no matter whether you're in the sales team or IT department, you can understand the value that Tiger Prism can bring to an organisation – making the conversations with end-users more seamless and benefits-led.
Of course, there are many more which could have made the list, and we look forward to having an even stronger, more positive year in 2023!
Finally, we'd like to say a big thank you to our staff, partners, customers, and friends of the business for their continued support throughout the past twelve months too.
If you have any questions in the meantime, please contact us on hello@tiger.io.